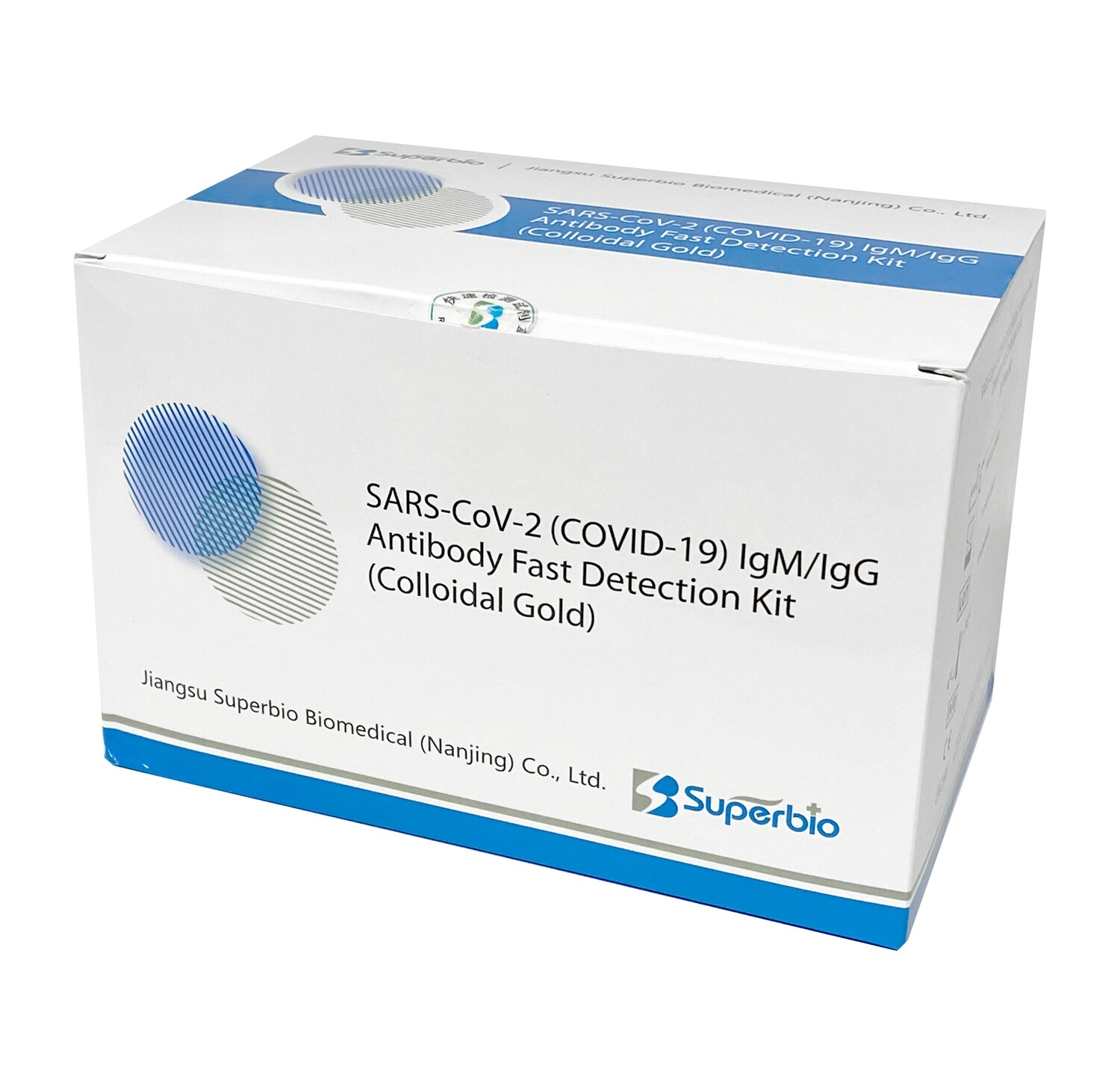 COVID-19 IgM + IgG Rapid Test Kit for Virus and Antibody Detection
SKU MK-CVDAB
Product Details
FREE NEXT DAY SHIPPING
Arrives in 1-5 business days
Superbio's COVID-19 IgM + IgG Home Use Rapid Test Kit for Virus and Antibody Detection (Colloidal Gold) in just 10 minutes.
The CORONAVIRUS FAST TEST it's a great helper of combating COVID-19! Superbio's newly launched SARS-CoV-2 lgM/lgG Antibody Detection Kit (Colloidal Gold) enables fast test on COVID-19 suspects in only 10 minutes! Due to the high specificity of lgM and lgG antibodies, this kit shows high accuracy, high sensitivity and good stability in detecting SARS-CoV-2, and it is able to discover viral infection as early as in the 1st week.
SARS-CoV-2 (COVID-19) IgM/IgG Antibody Fast Detection Kit (Colloidal Gold) is a newly launched fast diagnostic product developed by Jiangu Superbio Biomedical for fast qualitative test of SARS-CoV-2 Igm / IgG antibody in human serum/plasma/whole blood.
This product has already completed the European In Vitro Diagnostic Medical Devices Directive (IVDD) compliance statement and registration in the European Union and has been qualified for EU market access.

Test Principle: SARS-CoV-2 (COVID-19) IgM / IgG Antibody
Specification: 1 test/pack; 20 test/box
Materials Supplied: Disposable Test Card, Disposable Plastic Dropper, Sample Diluent, Peripheral Blood Collector, Cotton Swabs, Desiccant, Instruction Manual
Quantity – 20 in each box. Price $20 Per Test Kit
Save More
Save this product for later